9 Tips for overcoming holiday anxiety and stress.
Here are some help hints from WebMD about handing holiday anxiety and stress.
What Causes Holiday Stress?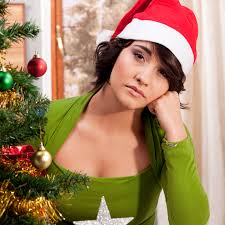 First, ask yourself this: What about the holidays gets you down? Once you cut through the vague sense of dread about family gatherings and identify specific problems, you can deal with them directly. For many people, holiday stress is triggered by:
Unhappy memories. Going home for the holidays naturally makes people remember old times, but for you the memories may be more bitter than sweet. "During the holidays, a lot of childhood memories come back," says Duckworth, who is also an assistant professor at Harvard University Medical School. "You may find yourself dwelling on what was inadequate about your childhood and what was missing." If you associate the holidays with a bad time in your life -- the loss of a loved one, a previous depression -- this time of year will naturally bring those memories back.
Toxic relatives. Holidays can put you in the same room with relatives you avoid the rest of the year. People struggling with depression may face stigma, too. "Some relatives don't really believe you're depressed," says Gloria Pope, director of advocacy and public policy at the Depression and Bipolar Support Alliance in Chicago. "They think you're just lazy, or that it's all in your head. It can be really hurtful."
What's changed? The holidays can highlight everything that's changed in your lives -- a divorce, a death in the family, a son who's making his first trip back home after starting college. Any of these can really unsettle a gathering and add holiday stress.
What's stayed the same. For others, it's the monotonous sameness of family holiday gatherings that depresses them -- the same faces, the same jokes, and the same food on the same china plates.
Lowered defenses. During the holiday season, you're more likely to be stressed out by obligations and errands. It's cold and flu season and your immune system is under assault. It's getting dark earlier each day. You're eating worse, sleeping less, and drinking more. By the time the family gathering rolls around, you're worn out, tense, and fragile. The holiday stress makes it harder to cope with your family than it might be at other times of the year.
Don't do the same old thing. If the usual family gathering is causing holiday stress, try something else. If you're too overwhelmed to host, discuss other possibilities with family members. Maybe a sibling could have the dinner this year.
Don't expect miracles. If your holiday anxiety stems from a deeper history of family conflict, don't expect that you'll be able to resolve any big underlying issues now. Sure, it's supposed to be a season of forgiveness and good will. But in the midst of a hectic holiday season, you can't pin your hopes on leading family members to big emotional breakthroughs. You may be better off focusing on your own state of mind and confronting difficult issues during a less volatile time of year.
Don't overdo it. To reduce holiday stress, you have to pace yourself. Long before the family gatherings actually happen, decide on some limits and stick to them. Stay one or two nights at your parents' house instead of three or four. Plan to drop by the holiday party for a couple of hours instead of staying all night.
Don't worry about how things should be. "There's a lot of cultural pressure during the holidays," says Duckworth. "We tend to compare ourselves with these idealized notions of perfect families and perfect holidays." But in fact, most people have less than perfect holiday gatherings -- they have family tension, melancholy, and dry turkey too. If you have negative feelings, don't try to deny them. Remember that there's nothing wrong or shameful or unusual about feeling down during the holidays.
So while holiday stress may be seasonal, depression can be year-round. If your holiday anxiety seems severe or is interfering with your job or home life, talk to your doctor or to a counselor.
One easy way to talk to a counselor is through online counseling. All you need is a laptop computer, tablet or smart phone with a internet connection or a cell signal. Then you can log on at a time that is convenient for you to talk to a online counselor.
If you think online counseling would be something you would be interested in. Find out more by clicking on the blue button below.