7 Signs of Prescription Drug Addiction
Street drugs have always has been and will continue to be one of the most common addiction problems. However a new and ever growing drug addiction problem is addiction to prescription drugs. If you are worried you or a loved one may have a presciption drug addiction problem. Here are 7 signs they may be addicted to prescription drugs according to Web MD.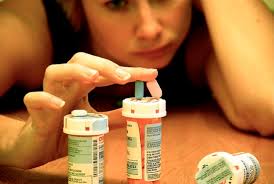 You may have an addiction to prescription drugs if:
You're not using medications in the way they're prescribed. You take larger doses, or take the drug more often than the prescription calls for. Or you use the medicine in a form not prescribed, such as crushing pills.
You go to more than one doctor to get prescription for the same drug or problem.
You use meds prescribed for other people.
You avoid telling the doctor about all the drugs you're taking.
You keep taking a drug after it's no longer needed for a health problem.
You look in other people's medicine cabinets for drugs to take.
You take prescribed meds with alcohol or other drugs.
If you think that you or a loved one my be addicted to prescription drugs or any other drug. You should consider getting counseling immediately before the problem gets worse.
One alternative you may want to consider is online counseling. With online therapy/counseling you have the ability to connect with licensed professional therapists in a discrete privately secure session at your convenience. Allowing you to have private discreet counseling from the privacy of your home by using your laptop computer, tablet or smart phone.
So you no longer have to go to a counselors office in fear you might be reconized or run into someone you know. Therefore reducing the stress of going to get counseling.
If you would like to learn more about online counseling and how it works. Please click on the blue button below to learn more.