Terrorist Shooter Suffered from Depression
According to the Wall Street Journal article printed today. The
accused

shooter 24-year-old Mohammod Youssuf Abdulazeez

from Chattanooga who killed 5 military personal suffered from depression.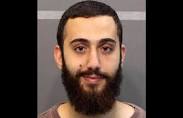 "Mr. Abdulazeez, who was killed Thursday by police after they said he had opened fire at two military facilities, suffered from depression for years, his family said in a statement. He had been on and off various medications, including antidepressants and sleeping pills, a family representative said. At the time of the shooting he was taking muscle relaxants for back pain resulting from his martial-arts training, the friend said."
"'The family repeatedly tried to get him into counseling,' the family representative said. But insurance wouldn't cover therapy and the family couldn't afford it, the representative said. He didn't provide details on what was believed to have caused the depression."
So many times we associate depression with "sadness". However in this case depression caused "anger". Which resulted in a violent act of shooting.
The family know he needed psychotherapy for depression. However sadly enough the family's health insurance did not cover such treatment and couldn't afford the high cost of counseling.
This brings up the argument that mental health treatment should not depend on where it is covered by insurance or not and should be made affordable without the need to be covered by insurance.
One of the 3 main reasons (Click here to read 3 main reasons people do not get therapy) people who need psychotherapy do not get it is because they do not want to have to file their insurance claim. In fear it may be discovered by their employer that they are receiving psychotherapy and therefore may get fired from their job or not get the promotion they deserve.
This is why our present system of getting psychotherapy is broken and must make a disruptive move by offering a disruptive solutions like tele-psychotherapy.
Tele-psychotherapy allows the patient to get the psychotherapy they need without the needing to file insurance .Because it is a cash basis only (insurance not accepted) and the patient can get therapy at a much more affordable price. Sometimes at a price less expensive that what a co-pay would cost with insurance. The pricing is a follows: a patient can get a 20 minutes session with a therapist for $25, a 30 minute session for $35 or 50 minute session for $60.
All the above psychotherapy can be done with online therapy (video conference) with a therapist from the privacy of your home using your laptop computer, tablet or smartphone.
The present system of psychotherapy is broken and antiquated. With today's technology there was no reason that Mohammod Youssuf Abdulazeez couldn't have gotten tele-psychotherapy. However until tele-psychotherapy is adopted and accepted as a "standard of care". We will continue to see these unnecessary disasters in our society.
Written by Mark Nolte founder of StartTalking.io and a former sufferer of depression.